Company Picnics
Want to host a company picnic that will be a success rain or shine? The Greater Cleveland Aquarium and Windows on the River can make it happen for you.
Your guests can enjoy a picnic outside on the patio with the river and the skyline as a backdrop. The setting gives you direct access to the Greater Cleveland Aquarium so your guests can visit at their leisure.
Package includes:
All Day Admission to the Aquarium (10AM-5PM)
Private Air-Conditioned Room (4 hour rental)
Private Outdoor Patio on the Water
Private Entrance into the Aquarium
Private Bathrooms
Stingray Package: $600 plus $30.00 per person
Box Lunch:
• Chicken Salad, Turkey & Cheese or Grilled Vegetable Croissant
• Fruit Salad
• Potato Chips
• Cookie
• Soda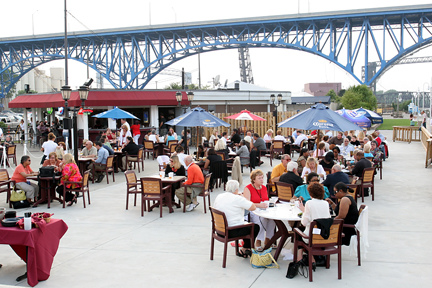 Add any of the below to the Stingray package:
• Seahorse Package: $20.00 per child (age 2-12) – Peanut Butter & Jelly Sandwich, Potato Chips, Cookie, Juice Box, Shark Tattoo
• Bonus activities including Giant Jenga, Cornhole & Hula Hoops: $100
• Small Animal Encounter: $50
• Seahorse or Shark Mascot Appearance: $50 for ½ hour
• SCUBA Diver in the shark exhibit holds up a sign with your company logo: $50
• Souvenir Photos: price varies
• Mechanical Shark Ride (adults & kids):
$800 for 3 hours
• Mechanical Surfboard Ride (adults & kids):
$800 for 3 hours
• Is anyone in your company SCUBA
certified? Watch them swim with the sharks
during your event! $205
Additional menu options are available.
Please contact Kristen Rose for more information.
krose@greaterclevelandaquarium.com or 216-862-8803.