GCA Spotlight: Meet Mallory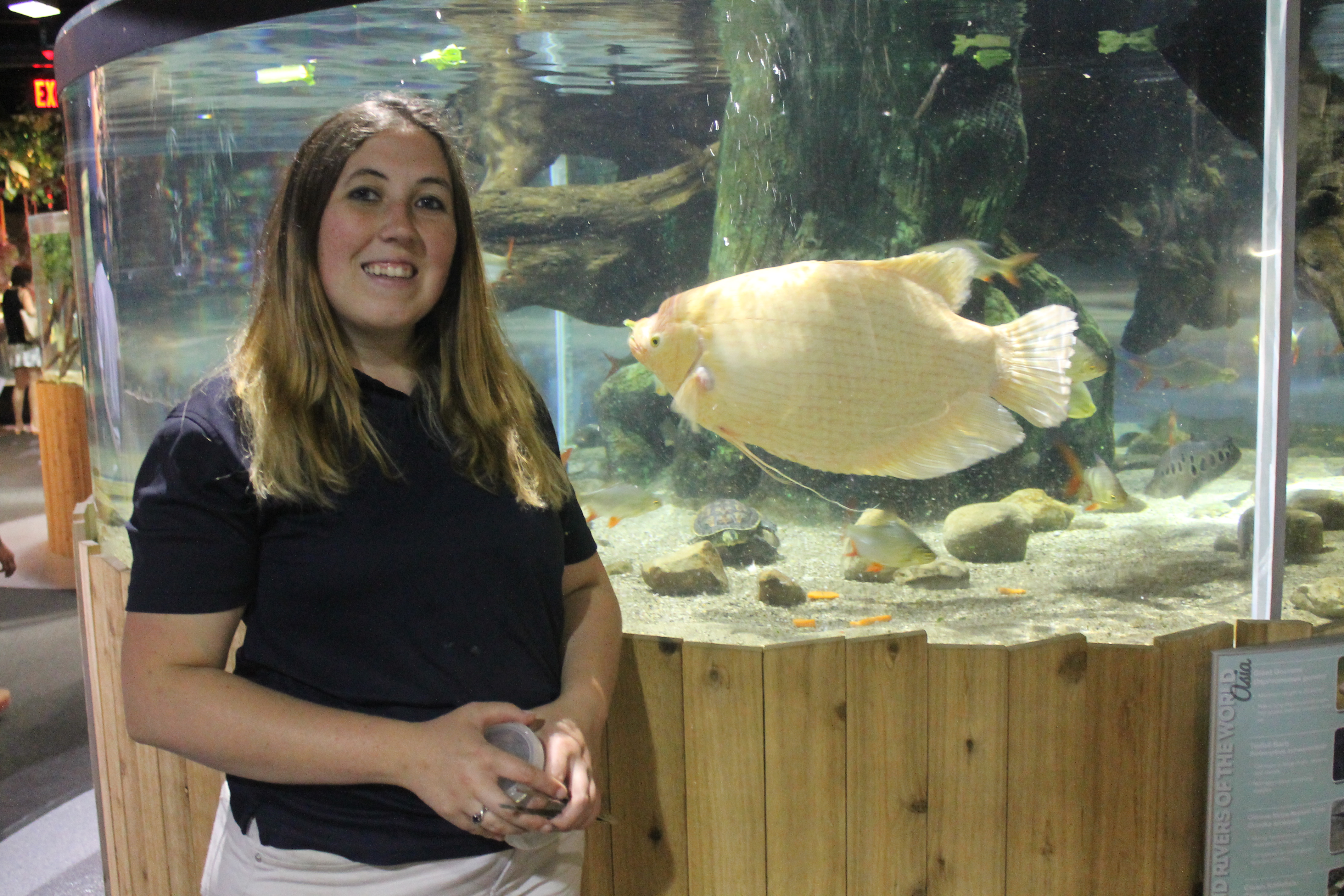 Mallory is a member of the Curation department here at the Greater Cleveland Aquarium, with an enormous passion for animals and giving them the best care
possible! Keep reading to learn more about her:
Title:
Animal Husbandry Assistant
How long have you worked at the GCA?
"I began working at the aquarium when it first opened and started as a Guest Experience Associate. I've been working in the Curation department since
August 2013."
How many different aquatic animals do you work with?
"I have the opportunity to work with pretty much all of them. As far as my main tanks, I am responsible for the Ohio wall, – which is home to all of the
turtles, the Reptile wall – which houses the newts, salamanders and snakes, and the exploration station!"
Do you have a favorite animal that you work with?
"My favorite animal to work with is the Musk turtle, the are too stinkin' cute! They are the really little ones and so fun to watch."
What does a typical day look like for you?
"I come in in the morning and basically do a walk through to check on everything I am assigned to. I focus on checking the tanks and maintaining the
correct and safe amount of water. Throughout the day I feed the animals and sometimes I cover for a full-time aquarist."
Do you have any previous experience working with aquatic life?
"This is my first encounter with aquatic life. I worked on a farm taking care of animals from the time I was 16. So, I've had a lot of animal care
experience but am somewhat new to aquatic species."
What is your favorite part of the job?
"My favorite part of the job sounds a bit odd but it's probably water changes because I feel like I am making the animals happy and it makes me feel very
accomplished. I love feeding the animals and especially cleaning their tanks because I want to make sure they are given the best care. I also really like
everyone that I work with and love the atmosphere here."
What is your favorite memory with GCA?
"I think my favorite memory so far would be when we were first starting and we went to Kalahari to pick up stingrays."
What is your dream job?
"Before starting here at the aquarium, I probably would have said animal care for any mammal, but I have really grown to love the aquatic life here and now
I would definitely say my dream job would be to keep working toward a full time aquarist."