GCA Spotlight: Meet Greg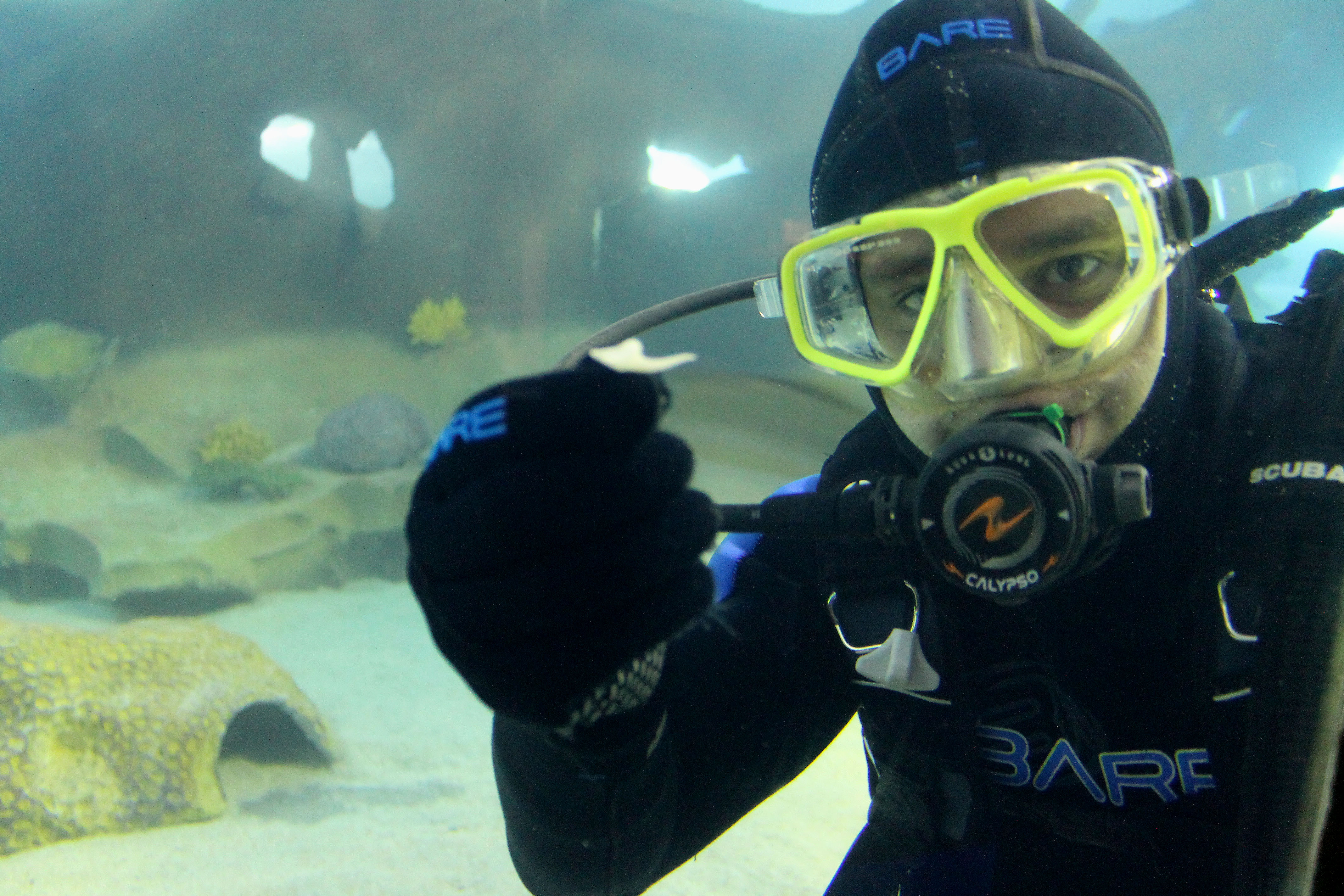 Have you ever wondered what it's like to scuba dive with Sharks? One of our divers, Greg, gives us an inside scoop about the ins and outs of scuba diving
at the GCA. Keep reading to learn more about him!
Title:
Exhibit Diver
How long have you worked at the Greater Cleveland Aquarium?
"I started in March of 2012 – about three months after we first opened."
What are your responsibilities?
"Diver responsibilities include maintaining and cleaning the tanks, scrubbing the acrylic, vacuuming, fixing silicone and buffing to make sure the exhibit
is as clean as possible."
Do you have a favorite animal at the aquarium?
"My favorite animal is the porcupine puffer."
How did you become involved at the aquarium?
"I've been scuba diving as a hobby for many years – so when I saw the aquarium was hiring divers, I decided to apply and ended up getting a job!"
What does a typical day look like for you?
"We normally come in around 8:00 a.m. and are typically the first ones here. We start by doing floor maintenance, because we can't do it once the guests
are here touring the exhibits. After that we prepare for our two dives of the day, at 10:30 a.m. and 1:30 p.m."
What is your favorite part of your job?
"Hands down, entertaining little kids. Seeing their reactions is really great."
Do you have a favorite memory or funny story with the GCA?
"Probably the dive master program we did. We were in one of the diver's friend's pool working on skills and the water was freezing. We had a really great
time though. Other than that, probably just working with my close friends."
How long have you been diving?
"I've been diving for close to ten years. I started because of a trip to Grand Cayman and haven't stopped since."
What is your dream job?
"My dream job would be to work at Google or any other top 10 software company – that's actually what I went to school for, so I would love to have a cool
job where I can use my education someday."
Thanks for always keeping things fun and entertaining around here, Greg! We'll see you under the water!