Feet First: Dive with the Sharks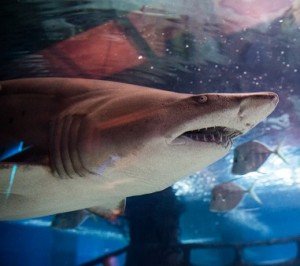 Open water SCUBA certified divers have the chance to dive with the sharks in our shark SeaTube exhibit, which holds 230,000 gallons of water, and is home to 34 species of sea creatures – among them being four species of sharks, two species of stingrays, and moray eels. The overall experience will entail a tour of the dive platform, a fish identification session, one dive in the shark SeaTube exhibit, use of all dive equipment needed, a souvenir item, a photograph of the dive, admission into the Aquarium for the diver and one viewing guest, and a souvenir shark tooth…if you find one! Lovers of sharks and all creatures underwater will enjoy the opportunity to be up close with these mysterious giants.
The GCA offers a chance, an opportunity, and a reason to check another box off on your bucket list. It's only appropriate that we advise you to do so feet first.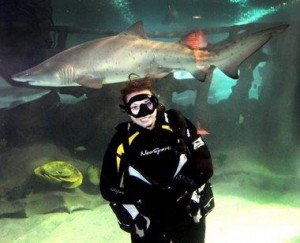 Pass Holder Pricing:
Non-Pass Holder Pricing:
*Pricing includes a photograph of your dive and same-day admission for diver plus guest into the Aquarium.
Available Time Slots:
Saturday at 8:30AM-10:30AM and 4PM-6PM
Mondays 4PM-6PM
The Fine Print:
Includes admission into the Aquarium.
Maximum of two divers can participate per dive.
Open water SCUBA certified divers must be age 15 and up; age 15-17 requires a supervising SCUBA certified parent or guardian to participate in the dive.
Reservations must be made at least three weeks in advance.
Payment in full due at time of reservation.
Qualifications:
Provide open water certification card from a nationally recognized SCUBA certifying agency.
Government issued picture ID with date of birth.
Signed GCA liability waiver; signed PADI medical waiver with NO medical contraindications; signed PADI safe diving practices release.
Completed diving questionnaire and emergency contact sheet.
Be of sound body and mind and able to handle inherent risks involved with SCUBA diving.
Must be able to carry and lift 50lbs.
Must be able to climb stairs and ladders with weight of SCUBA gear.
DAN membership strongly recommended.
Cancellations:
A date may be changed if it is requested more than 48 hours in advance. Cancellations less than 48 hours in advance and no-shows will not be refunded or rescheduled. To change your reservation, please contact the Greater Cleveland Aquarium at 216.862.8803.
To make a reservation, please call 216.862.8803.