Very Important Guest (V.I.G.) Tour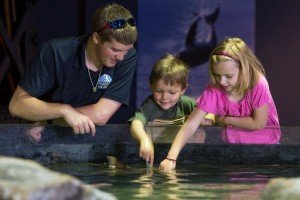 Included in this V.I.G. tour is a behind the scenes tour and a gallery tour for up to 6 people, and it is available for walk-up admission only. First, a personal tour guide will be provided to your group to walk you through the Aquarium, where you will have the chance to ask questions and gain feedback on any and all of our different exhibits. Following this tour, your group will then go on a behind the scenes tour, which offers a sneak peek into the Greater Cleveland Aquarium's day-to-day operations. You will get an insider's perspective on how we care for marine and freshwater species, our water filtration system, food preparation area, water quality laboratory, and the dive zone. This combo pack offers you the chance to learn something new about our exhibits, while also allowing you access to working areas of the Greater Cleveland Aquarium that are usually closed to the public.
Pricing:
General admission is $19.95/adult and $13.95/child; to upgrade to the V.I.G. tour it is $10/adult and $5/child
Available Time Slots:
Offered daily; available for walk-up admission only if purchased by 3:30pm
The Fine Print:
Maximum number of group in a V.I.G. tour is six.