SCUBA Divers in Shark SeaTube
Our GCA SCUBA divers are in the Shark SeaTube exhibit every day. They maintain the exhibit by cleaning it thoroughly to ensure the comfort and safety of its inhabitants. Keep in mind; although they're working, they love to have fun on the job. We encourage guest interaction with our SCUBA divers and although they can't hear you underwater, they are excellent lip readers. A Guest Experience Associate is located at the exhibit entrance and carries with them a slate for guests to write on. On your next visit, ask them a question using this slate! Our SCUBA divers have a slate with them inside the exhibit and love writing messages back and forth with our guests.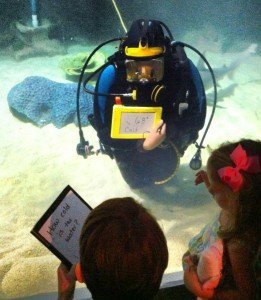 *Please note: For safety precautions, there will be no GCA SCUBA divers in the Shark SeaTube during bad weather with thunder or lightening present.