Touch Pool Animal Encounters until 5PM
Our Coastal gallery features an 11,000 gallon Touch Pool that is home to many crustaceans and friendly stingrays; the stingrays are located on one side and crustaceans on the other. At our Touch Pool, you'll learn the official "two-finger touch" technique and experience what sea life feels like!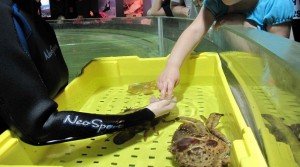 A Guest Experience Associate is in the tank every day from 10AM-5PM; equipped with a floating tray, guests are able to see up close horseshoe crabs, pencil urchins and more.
*Please note: For safety precautions, there will be no Guest Experience Associate in the  Touch Pool during bad weather with thunder or lightening present.