Ohio Lakes + Rivers
To many of us, Lake Erie has been a part of our lives for as long as we can remember.  Edgewater Beach, Mentor Headlands and Huntington Beach are just a few of the local beaches that surround our community. As Clevelanders, we understand that Lake Erie is unique among the Great Lakes. Lake Erie's shallow waters and location result in the highest primary production, biological diversity and fish production of all the Great Lakes.
Rarely do we have the opportunity to really think, learn and appreciate the fish inhabiting our Great Lake. One of the greatest parts about our Ohio Lakes + Rivers gallery is the focus on fish native to Ohio. Newly updated in May of 2013, our Ohio Lakes + Rivers gallery features many exhibits, a state-of-the-art handmade stream and updated informational signage.
Animal spotlight: Shovelnose sturgeon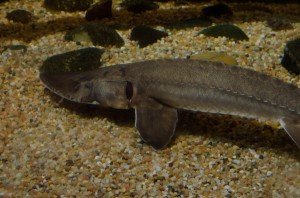 Shovelnose sturgeon were commonly found in the Ohio River until 1910 when the lock and dam system were built. Now, unfortunately, they are an endangered species. Notice their distinctive armored plates and broad, flat snout. Prehistoric in appearance, these fish have been around for millions of years.