Giving Spotted Turtles a Head Start
CONTACT:
Patrick Evans, Director of Marketing, Cleveland Museum of Natural History
216.231.4600 x 3356, pevans@cmnh.org
Tami Brown, Director, Splash Fund & GM, Greater Cleveland Aquarium
216.862.8803 x 7712, tbrown@greaterclevelandaquarium.com
GIVING SPOTTED TURTLES A HEAD START: NORTHEAST OHIO ORGANIZATIONS COLLABORATE TO IMPROVE THREATENED SPECIES' CHANCES
CLEVELAND, OH – A convergence of factors—declining water quality, loss of habitat, illegal black market poaching and an increase in natural predators—pose a significant challenge to the spotted turtle populations. The shallow wetlands turtle with distinctive bright yellow spots is becoming increasingly difficult to find. Alarmed by its dwindling numbers, the Ohio Department of Natural Resources Division of Wildlife lists the reptile as a threatened species that should be "vigorously protected" in the Buckeye State. The Cleveland Museum of Natural History, the Greater Cleveland Aquarium and the Wild4Ever Foundation are releasing six female spotted turtles at a deliberately undisclosed preserve to help boost their numbers in the wild. "We think we have a real opportunity here to educate the community and make a difference for a native species' long-term survival," says Dr. Gary Riggs, co-founder of the Wild4Ever Foundation, which has provided veterinary support as well as funding for surveys, ID chips, transponders and telemetry equipment, and genetic testing for the project.
This release is the largest in Ohio to-date under the umbrella of SPOTD, a broad, multi-agency effort to head-start the species. The group works to identify and monitor spotted turtles in the wild. Organizations in the partnership also recover eggs for incubation. Any resulting hatchlings are reared for release when they reach a size more advantageous to their survival. "We carefully prepared a remote, protected release site for the spotted turtles that had the natural elements they need to thrive," explains David Kriska, Biodiversity Coordinator for the Cleveland Museum of Natural History. "From digging ponds to keeping out predators, we've done what we can to provide an optimum habitat but that, of course, is no guarantee of success."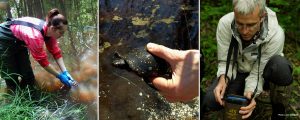 Aquarium staffers closely monitored the spotted turtles that were part of this release in a special facility. As the release date approached, the team made environmental changes in their holding tanks to ease the transition—adjusting light timers to mimic daylight hours, feeding them live invertebrates, and introducing leaves, driftwood, rocks and water from the release site. "If any one agency were to take this on it might seem daunting, but each organization has brought its particular expertise and resources to bear," says Greater Cleveland Aquarium curator Stephanie White. The care and feeding of hatchlings was made possible by the Aquarium's nonprofit Splash Fund and Aquarium guests can see a spotted turtle on exhibit and watch a video monitor of the next group of spotted turtles preparing for release."
The six microchipped spotted turtles will be monitored—closely at first—by radio transmitter. "This has been several years in the making and we were all understandably a little anxious about sending these little gals out into the wild, but that's where they are meant to be," says Kriska. Other hatchlings are in the Aquarium's care for future releases. "Whatever happens with this first group, we'll learn from it and keep trying," says White.
Other partners working to ensure a future for the spotted turtle in Ohio include Geauga Park District, Cleveland Metroparks, Cleveland Metroparks Zoo, Ohio Department of Natural Resources Division of Wildlife, U.S. Department of Agriculture Animal and Plant Health Inspection Service Wildlife Services, The Ohio State University, Summit Metro Parks, Cuyahoga Valley National Park, Lake Metroparks, and the Medina County Park District.
# # #
Watch a video about the project here.